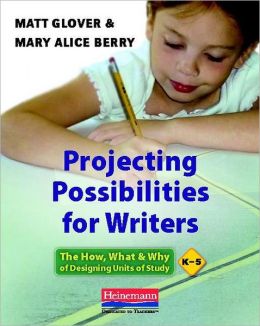 Oh joy! You know how much I like to follow and learn from my personal professional heroes!
Matt Glover is a speaker, author, teacher and leader.  He is an expert in the field of early-childhood literacy, having worked with Katie Wood Ray on the classic professional book: Already Ready (2008), and more recently the books: Engaging Young Writers, Preschool to Grade 1 and Projecting Possibilities: The How, What and Why of Designing Units of Study, K-5.
A few years ago I read Already Ready, and found the practical, yet inspirational work to challenge my idea of both what good teaching was and how to go about it with our youngest learners. The notion of "making books" for little ones was new to me. However, through Matt and Katie's teaching in that book, I quickly learned that young children were ready (already ready) to write and with a "gentle nudge" could do so with age-appropriate stamina and technique.
It was with that lens I welcomed Matt Glover to our school for a 1-day teacher workshop with our KG2 (Kinder) and Grade 1 teachers last week. (Our KG1 teachers were on their way to Muscat where they would take part in Matt's 2-day workshop Nurturing the Intellectual Life of Young Children.) Our goal for the day? To get as much done as possible in a very short amount of time!
Our day began with Matt presenting his thinking around making books, studying and teaching into and through illustrations, and nudging children through conferences and small group work. Matt presented to our eager group of 7 (3 KG2 teachers and 3 G1 teachers and myself) for two hours. Days before, the team sat to think through questions we wanted to ask, and Matt kept those in his periphery during the morning presentation. Following the workshop, we moved into a KG2 and a G1 class to watch Matt teach. This was where the real magic occurred, as our classroom teachers were able to watch Matt work (with our real kids- no safety net), and think aloud as he was coaching us. Following the in-class demonstration teaching, the teachers returned to an afternoon meeting where Matt fielded our questions and walked us through best practice scenarios.
To say he was an excellent presenter is to miss the main point, and that is that Matt is a real presenter. Everything he told us, he showed us. Every question we asked, he didn't just answer, he had experienced. The times when he couldn't offer advice, he reminded us that some students, parents, and schools have to dig through and find the answers. But we were on the path, and that was worth something.
All in all, our 8 hours with Matt (not counting the time I got to spend with him on the bus to the airport or the terminal waiting in Immigration- the real perk of having a "guru" come to you is that you can capture them and really think with them!) was valuable and a sure catalyst for future work.
I've honestly not been able to process all of what I learned, or plan for what I need to do next, but I'm working on it, including, the desire to be a more teaching-focused leader. (See my post here.) What I can say though, is that there is a world out there focused on our littlest learners. A world vital to a whole-school picture and deserves as much attention as anything happening in our schools.